IT Solutions for Warehousing
Need a hand with leveraging the technology required to keep your warehousing operation secure & competitive? Our team can help manage your IT so you and your team can focus on improving & growing your organization. Leave your name and email, and one of our experts will be in touch to discuss your needs & goals.
When dealing with warehousing operations, or any part of a supply chain, efficiency is crucial. Even small savings in one area can translate into huge savings when applied to hundreds or even thousands of products. This type of agility lets businesses become more competitive, expand, offer new products to customers, and much more.
As we also know, the warehousing industry is an ever-evolving technical world, requiring a responsive and robust IT foundation in order to get things done properly. As the industry brings forth its own set of unique challenges, building a successful protection plan isn't always easy. Luckily, this is where NBIT can help. We provide comprehensive IT services to warehousing organizations, large or small. NBIT's combined industry, strategic and technical expertise means we understand the complexities of the warehousing sector and are committed to providing innovative industry solutions. We know how to automate a seamless, cohesive infrastructure that's not only reliable, but efficient and secure.
Threat Prevention for Warehousing
Businesses that don't close the holes in their warehousing security posture could fall victim to attacks that can expose sensitive information and cause them to lose the trust of their customers. As such, automation and connectivity are the key factors to growing at an accelerated pace. Business leaders are now rethinking how to continually change and shift from being reactive to proactive to solve these industry challenges in digital transformation, product development and vertical integration. They're focusing on bigger transformation initiatives to continually evolve their workplace and workforce, strengthen operational resilience, and create agile and adaptable environments.
NBIT works in real time with the latest and most up-to-date technology platforms to deliver actionable information to workers and customers via wireless computers/scanners and desktop applications. Our digital warehousing solutions offer IT and business transformation solutions to address the industry's changing trends and challenges. Protect your warehousing organization with industry-leading technology operations before it's too late.
Streamline Your Warehousing Operations with Custom IT Solutions
The warehousing industry can appear daunting with its many complexities, but professional warehouse IT support can provide your business with the edge it needs to succeed. Solutions such as supply chain management software help organizations maintain real-time stock levels, optimize package delivery, and streamline administrative tasks. Here at NBIT, we have the capability to optimize your warehouse space and integrate warehouse solutions for supply chain management, improving your efficiency and warehouse automation while increasing quality control.
Collaborating with us will provide your warehouse facility with valuable support in managing your warehouse operations. You get to focus on your core operations while leaving your IT networks in the hands of our experts. This is particularly important for small and medium-sized businesses that may not have the resources to manage their IT networks internally due to cost or staffing constraints.
Advanced Technology for Efficient Warehousing Operations
When it comes to the complex technology used on a day-to-day basis within your warehousing organization, specialized expertise is needed to ensure its effective management. Your organization deserves nothing less than a tailored enterprise resource planning approach that considers your unique tech requirements.
NBIT's Managed IT services provide companies with the opportunity to meet the highly specific needs of their industry. This allows businesses to outsource their IT needs, giving them access to our team of experts who know the ins and outs of warehousing operations, from ordering materials to maintaining inventory levels. With this specialized assistance, businesses can gain greater control over their operations through streamlined processes such as order management, automated storage of customer service requests, tracking product flow, inventory control, reverse logistics, inventory storage, and improving access to critical information. By investing in managed IT services tailored specifically for your business, you can find ways to save time and money while also gaining better insight into your organizations operations.
Focus On Growth
In today's fast-paced business environment, it is essential for companies to stay ahead of the competition and continually find ways to grow and expand operations. However, managing IT infrastructure can be time-consuming and resource-intensive, taking valuable resources away from core business operations.
Outsourcing your IT needs to NBIT can alleviate this burden and provide you with the support you need to focus on growth. With NBIT's expertise, your company can focus on the core of its operations, such as growing its warehouse operations and warehouse logistics. We provide comprehensive IT support that allows you to free up valuable resources and dedicate them towards optimizing processes, creating new products and services, and expanding into new markets. Our solutions can help you stay ahead of competition by streamlining your IT needs and allowing you to take advantage of the latest technologies.
Improve Your Bottom Line
In the current market, you as a business owner are under pressure to enhance profitability, and IT solutions can help you meet this objective in a few different ways.
Our managed IT solutions can facilitate automation of tedious administrative processes including order entry, shipping documentation processing, inventory management, and packaging optimization. This way your organization can control labor costs and maximize efficiency so that employees have more time for essential operations.
Our IT systems can offer real-time visibility into stock levels which aid with informed decisions on inventory management and replenishment. By optimizing your inventory control, there is less expenditure related to unnecessary stock while assuring goods reach their destinations on schedule and warehousing logistics goals are met.
Improve Security and Protect Your Reputation
The threat landscape for cybersecurity is continually evolving, with cybercriminals using increasingly sophisticated tactics to breach security systems. As a result, warehouse operators must invest in advanced security solutions to stay ahead of the curve and protect sensitive data from cyber threats. This includes implementing firewalls, intrusion detection systems, and encryption technologies to protect against unauthorized access and data theft.
Data breaches can have severe consequences for your warehouse operation, including financial losses, reputational damage, and legal liabilities. These consequences can be particularly severe for a warehouse operation, where the loss of sensitive data can lead to supply chain and fulfillment services disruptions. Additionally, data breaches can result in the theft of intellectual property, trade secrets, and other sensitive information that can be used by competitors to gain an advantage in the market.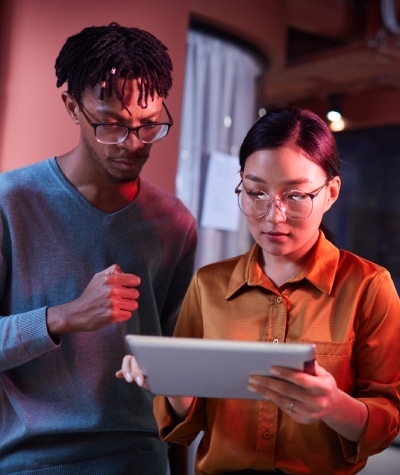 Why Network Builders?
At Network Builders IT, we understand the unique challenges and complexities of the warehousing industry, and we offer customized IT solutions to help businesses like yours stay competitive and grow.
With over 20 years of experience working with businesses in the warehousing industry, we understand the unique challenges you face. We have a deep understanding of the technology requirements for warehousing operations, and we can provide customized IT solutions to meet your specific needs.
We take a proactive approach to IT management. We monitor your systems around the clock and identify potential issues before they become major problems. This allows us to address issues quickly, minimizing downtime in order fulfillment and ensuring that your warehousing solution systems are always running smoothly. Contact us today to learn more about how we can help your business succeed.
Download "The Greatest Warehousing Threats & Challenges in 2023" Report Now
This free 38-page report outlines the biggest threats & challenges the warehousing industry faces in 2023 and beyond, and provides helpful insights into ways technology can help organizations survive & thrive as the industry continues to rapidly evolve.
"*" indicates required fields